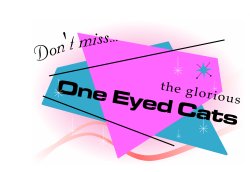 About The One Eyed Cats
Whether it's high-octane rock & roll, cool blues, jumping rhythm, driving rock or a hair-down sing-along, the Cats always deliver. And deliver incredibly well.
Their large line up is suited to their huge sound, with a fiery brass section, rocking guitar and rolling piano.
Their music is always lively, passionate and entertaining. They always aim to lift the roof off, rock socks off and leave everybody fully entertained - having had a good laugh, boogie and night.
All with immense enthusiasm, fine humour and unquestionable musicianship.
Go see the Glorious One Eyed Cats. Let your hair down and treat yourself.